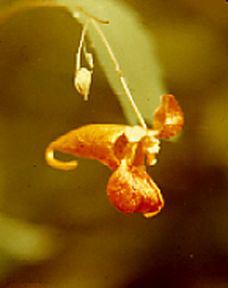 © Bill Hilton Jr.
Jewelweed,
Impatiens capensis
, also called "Touch-me-not" because its pods will fling out seeds at the slightest contact, is a succulent plant often found in the wild with Poison Ivy,
Rhus radicans
. It's a curious relationship, enhanced because Jewelweed tea is sometimes used to treat ivy dermatitis. Ruby-throated Hummingbirds are quite attracted to the orange-flowered Spotted Jewelweed, but seem to pay less attention to Yellow Jewelweed,
Impatiens pallida
, which grows in alkaline soils. Jewelweed is a rather delicate succulent plant whose stems are easily broken by passers-by or even heavy rains.
If you have a sharp photo of this hummingbird flower you would like to contribute for this page, please send it to PROJECTS with info about when and where the photo was taken, the photographer's name, and any anecdotal info about the plant.