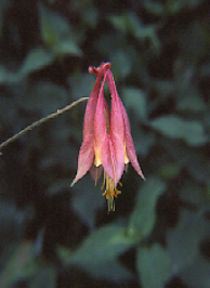 © Bill Hilton Jr.
Red Columbine,
Aquilegia canadense,
is especially valuable in a hummingbird garden because it blooms starting in late March across the eastern U.S.--just when Ruby-throated Hummingbirds are beginning to return from their wintering grounds. Feeding hummingbirds must hover directly beneath the Columbine flower, aiming their beaks straight upward to sample the nectar.
If you have a sharp photo of this hummingbird flower you would like to contribute for this page, please send it to PROJECTS with info about when and where the photo was taken, the photographer's name, and any anecdotal info about the plant.