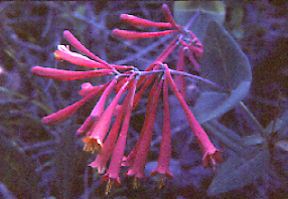 © Bill Hilton Jr.
Although its foliage resembles that of Japanese Honeysuckle,
Lonicera japonica
--a foreign invasive that chokes out native vegetation--Trumpet Honeysuckle,
L. sempervirens,
is a rambling vine that should be encouraged. Its long, tubular red flowers are a favorite of Ruby-throated Hummingbirds and it grows best in full or partial sun, perhaps on a fence or arbor.
If you have a sharp photo of this hummingbird flower you would like to contribute for this page, please send it to PROJECTS with info about when and where the photo was taken, the photographer's name, and any anecdotal info about the plant.