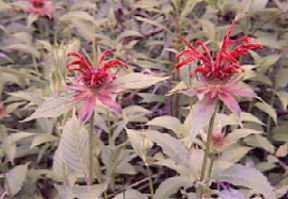 © Bill Hilton Jr.
Beebalm or Oswego Tea,
Monarda didyma
, a member of the mint family, is as attractive to humans as Ruby-throated Hummingbirds, since its leaves make a fragrant tea. It prefers plenty of sun (with dappled shade at midday) and moist soil. Its close relative, Wild Bergamot,
M. fistulosa,
has a pinkish or pale lavender blossom and similar habitat needs. Along with hummingbirds, both these flowers also bring in native bees, butterflies, and other nectar-loving insects.
If you have a sharp photo of this hummingbird flower you would like to contribute for this page, please send it to PROJECTS with info about when and where the photo was taken, the photographer's name, and any anecdotal info about the plant.