-- HUMMINGBIRD Q & A --
Nest & Eggs #1
---
The questions below come in part from visitors who leave messages on the Operation RubyThroat website. Please send your own questions to QUESTIONS, or post them on the Guestbook page.
---
1. I have lots of Ruby-throated Hummingbirds at my feeders. Why can't I find a nest?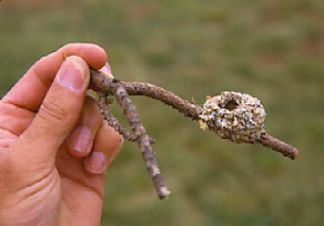 Photo © Bill Hilton Jr.


One reason the nest of the Ruby-throated Hummingbird (Archilochus colubris) is hard to find is because it is so small (above); it is also well camouflaged with an outer layer of lichens. Although it may appear obvious on this naked pine twig, when it contained eggs and young the nest was hidden by pine needles and cones. Several western U.S. hummingbird species build their nests semi-communally and in the open, making them easier to spot. The best way to find a hummer nest is to wait for the female to lead you to it. This may not work, however, since the nest can be up to 1.5km or more from a good feeding area.

Among Ruby-throated Hummingbirds, nests may be in hardwoods or evergreens from about one to 20 meters (three to 60 feet) from the ground. Often they are situated in the crotch of in an outer, down-turned branch overhanging water, but there are many exceptions. Some of the western U.S. hummingbirds build frequently in the open on fence rails, porch lights, and other human-made objects.

Perhaps the most effective to way to find a nest is to watch a female hummingbird in spring when she is gathering spiderwebs for her nest and then try to follow her to the nesting site.
---
2. Can you describe the construction technique used by Ruby-throated Hummingbirds to build their nests? Specifically, how are the lichens attached? Are they woven into the body of the nest or attached in some other way? (Thanks to Billie Green of Thousand Oaks, California, for submitting this question to Operation RubyThroat.)

The spiderweb used by hummingbirds is sticky, of course, so the lichens stick to the web and are also caught beneath overlapping strands of silk. The female collects the silk strands of spiderweb and winds them around plant parts and lichens and then fills the cup with plant down. In spring, female hummingbirds are often seen hovering in the eaves and roof overhangs of houses, where they are probably collecting spiderwebs and, perhaps, also dining on small spiders.
---
3. How long does it take for hummingbird eggs to hatch, and how long are the chicks in the nest? (Thanks to John Phillips of Santa Cruz, California, for submitting this question to Operation RubyThroat.)
In the Ruby-throated Hummingbird, incubation--which is done only by the female--usually lasts 16-18 days, sometimes longer during cool weather. She typically lays one egg, skips a day, and then lays a second; incubation does not start until both eggs are laid. There are almost always two eggs; if only one were laid, the female would not be maximizing her reproductive potential; if three or more were laid, it's likely the female would not be able to provide sufficient food for the nestlings and all could die.
When chicks hatch, they are completely naked and about 2.5cm (one inch) long. The female sits tight when the chicks are small, leaving the nest no more than a few minutes each hour to forage. As nestlings grow and gain feathers, she spends more and more time finding nectar and tiny insects to feed her young. Fledging usually occurs about three weeks after hatch date, again depending on ambient temperature and how well the mother finds food. Since this whole process takes up to six weeks, double-brooding isn't likely in the northernmost part of the Ruby-throated Hummingbird's range, but probably occurs frequently in the South. Triple-brooding is reported from Florida, but is likely rare.
---
4. Will hummingbirds use nest boxes?
Ruby-throated Hummingbirds are not cavity nesters, so they don't use nest boxes. Usually the nest is in the crotch of a tree, but rarely the female will build on top of a flat man-made object such as a post or porch light. It is much more common to find hummer nests on artificial structures in the western U.S., perhaps because there are more species of hummingbirds and fewer trees and shrubs.
---
5. Do hummingbirds re-use the same nest?
Hummingbird nests are fairly fragile and usually do not last through the winter--especially in locations where there is heavy snowfall. It is not uncommon, however, for a female Ruby-throated Hummingbird to use the same tree--even the same branch--in successive years. Females may use the same nest for a second or third clutch within the same breeding season, but there are also records of a female hummer building a second nest while she was still raising chicks in her first nest! Because it is against state and/or federal law (in particular, see Migratory Bird Treaty Act) to collect and/or possess hummingbird nests in the U.S. and Canada, one should leave any hummingbird nest in place--even after the breeding season is over.
---
Back to Hummingbird Questions & Answers
Up to Top of Page
If you found this information useful or interesting, please
Support
Hilton Pond Center for Piedmont Natural History
&
Operation RubyThroat: The Hummingbird Project
It's painless, and YOU can make a difference!

Just CLICK on a logo below.

Make direct donations on-line through
Network for Good:

LIKE TO SHOP ON-LINE?
Donate a portion of your purchase price from 500+ top on-line stores via iGive:

Use your PayPal account
to make direct donations via
funding@hiltonpond.org
Operation
RubyThroat's
On-Site
Search Engine

Operation RubyThroat is a registered trademark of Bill Hilton Jr. and Hilton Pond Center for Piedmont Natural History in York, South Carolina USA, phone (803) 684-5852. Contents of the overall project and this website--including photos--may NOT be duplicated, modified, or used in any way except with the express written permission of the author. To obtain permission or for further assistance on accessing this website, contact Webmaster.