LANDSCAPING FOR HUMMINGBIRDS
If you want to attract Ruby-throated Hummingbirds (Archilochus colubris), it's not enough to simply hang a feeder filled with sugar water outside your classroom or kitchen window. You must also supply a HABITAT that meets the everyday needs of hummingbirds. An effective habitat will contain water, shelter, space, and food.
Natural hummingbird food comes in the form of tiny insects that provide fats and proteins, while plant nectars are the principal source of carbohydrates. (It's debatable whether hummingbirds also get protein from plant pollen they may ingest while sipping nectar.) At certain times of the year--especially as they prepare for migration--hummingbirds may spend most of their time ingesting insects rather than nectar or sugar water in order to lay down yellow fat.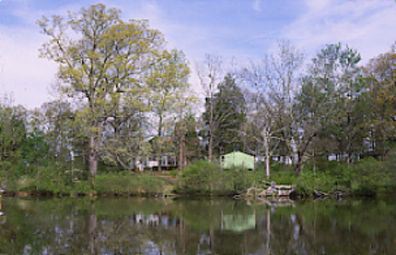 © Bill Hilton Jr.
Hilton Pond Center for Piedmont Natural History has all the
attributes needed to attract hummingbirds and other wildlife:
water, shelter, space, and both natural and artificial food.
Although some folks have experimented with bananas and other fruits to attract small insects that might, in turn, bring in hummingbirds, it IS possible to attract hummers by planting nectar-producing flowers and flowering trees and shrubs. Some gardeners and hummingbird enthusiasts prefer to put out only native plants that occur naturally in the local region. Other folks aren't particular about what they plant--as long as the flowers attract hummingbirds; their gardens may also include non-native plants from other regions of North America, Mexico, or Central America, and even exotic plants from Africa, Asia, and Europe. If you choose to plant non-natives, however, it is VERY important that you not allow these plants to escape from cultivation--especially if they are potentially invasive.
Whatever your choice, you can find lists of hummingbird plants on the pages below, along with hints about how to provide water, shelter, and nesting habitat for hummingbirds in your own backyard or school grounds.
Hummingbirds need:
Food--Natural and Otherwise
--- Hummingbird Habitats
------ Native Plants
------------ "Top Ten" Native Hummingbird Plants
------ Exotic Plants
------------ "Top Ten" Exotic Hummingbird Plants
--- Hummingbird Feeders
------ Hummingbird Feeding Hints
------------ Bees & Ants at Feeders

Back to Attracting Hummingbirds Page
Up to Top of Page
If you found this information useful or interesting, please
Support
Hilton Pond Center for Piedmont Natural History
&
Operation RubyThroat: The Hummingbird Project
It's painless, and YOU can make a difference!

Just CLICK on a logo below.

Make direct donations on-line through
Network for Good:

LIKE TO SHOP ON-LINE?
Donate a portion of your purchase price from 500+ top on-line stores via iGive:

Use your PayPal account
to make direct donations:
Operation
RubyThroat's
On-Site
Search Engine

Operation RubyThroat is a registered trademark of Bill Hilton Jr. and Hilton Pond Center for Piedmont Natural History in York, South Carolina USA, phone (803) 684-5852. Contents of the overall project and this website--including photos--may NOT be duplicated, modified, or used in any way except with the express written permission of the author. To obtain permission or for further assistance on accessing this website, contact Webmaster.