"Everybody loves hummingbirds, and they are wonderful tools to excite students about learning." That quote from a classroom teacher is the basic premise of Operation RubyThroat: The Hummingbird Project, an innovative cross-disciplinary initiative through which students, teachers, and others collaborate to study behavior and distribution of Ruby-throated Hummingbirds (Archilochus colubris).
Operation RubyThroat is an outreach endeavor of Hilton Pond Center for Piedmont Natural History (www.hiltonpond.org), a 501(c)(3) non-profit education and research site in York, South Carolina.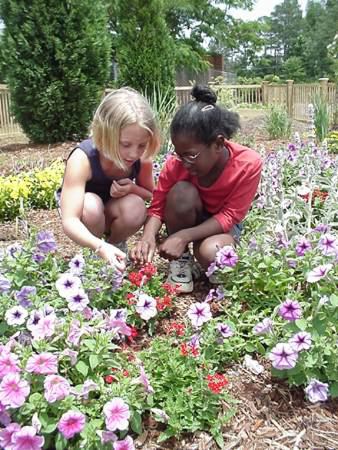 A grant of $6,000 from The Foundation for the Carolinas Impact Fund (Animal Issues Interest Team) during Year One (2001-2002 academic year) will be matched by funds received from The Christensen Fund and Perky-Pet Corporation and anticipated from other foundations, individuals, and businesses.
Impact Fund grant monies will be used specifically to involve K-12 students from York County in South Carolina, and Gaston and Mecklenburg Counties in North Carolina. These funds will allow students and teachers to establish Schoolyard Hummingbird Habitats at selected schools with the added goal of helping young people understand the importance of protecting, rescuing, and preserving habitat for wildlife. At Hilton Pond Center, we believe that education is an extremely important part of assuring that resources for wildlife are protected now and for the future; hummingbirds and Hummingbird Gardens are effective tools in educating toward that goal. A prototype Hummingbird Garden established in 2000-2001 at Nursery Road Elementary School in Irmo SC was highly successful and is being used again this year by a team of six Grade 3 teachers and 130 students who are involved in Operation RubyThroat (see Field Testing 2000-2001).
In Operation RubyThroat, participants observe the Ruby-throated Hummingbird in their home countries and share information with peers across North and Central America. Data they collect on hummingbird behavior and distribution are submitted electronically to Hilton Pond Center, which assists participants in disseminating write-ups of their work through scientific and education publications and/or the Operation RubyThroat Web site (www.rubythroat.org). Participants learn about natural history; reinforce skills in math, science, writing, geography, art, language, and other disciplines; AND gain deeper understanding of the need for environmental cooperation at home and among people of the Americas. Year One participants in Operation RubyThroat live in the United States, primarily in the Carolinas and New York. In Year Two, the project will expand to include participants in 38 states and Washington DC, and in Year Three to Canada, Mexico, Belize, Costa Rica, El Salvador, Guatemala, Honduras, Nicaragua, and Panama-- everywhere Ruby-throated Hummingbirds regularly occur at some time during the year.
The main goals of Operation RubyThroat are the Seven "E's":
Enhance K-12 learning in science, particularly conservation and natural history
Excite students about field research and potential careers in ecology and related areas
Emphasize integration of natural science learning into all science disciplines, as well as into math, arts, and humanities
Enlighten students about environmental factors that affect hummingbirds (and humans)
Encourage international understanding by building student and teacher networks in the Western Hemisphere
Expand student use of technology, especially in the natural sciences
Establish an exemplary program that serves as a model for other cross-disciplinary projects that focus on new topics (other than hummingbirds)
Operation RubyThroat also will lead to local conservation efforts through which students and others protect or create schoolyard and backyard habitat used by hummingbirds and other wildlife. Establishment of model Schoolyard Hummingbird Habitats at campuses in York, Gaston, and Mecklenburg counties is an integral part of the overall Operation RubyThroat project.
If you are a teacher, administrator, or PTO officer and wish to submit your school as a possible recipient of funds for a Schoolyard Hummingbird Habitat, continue on to Proposal & Project Timeline.
NOTE: The deadline for the 2002 competition has passed; please click on the link below to see who they are, and then go back and read other information about Schoolyard Hummingbird Habitats in anticipation of getting one for your school in 2003.
All photos & text © Hilton Pond Center
Back to Miscellany
Up to Top of Page