MEASURING HUMMINGBIRDS
Several kinds of measurements are usually taken by a bander before releasing the hummingbird; mass (weight), wing chord, beak length, and tail are the most common, but some researchers also take detailed notes on feather length and width, plumage condition, and other external characteristics.
MASS: While still safely immobilized in the paper tube, a hummingbird is placed on an electronic balance and massed to the nearest or 0.01g; prior to the donation by Ohaus of a Scout II electronic balance (below left), birds were massed less accurately to 0.1g on a triple-beam balance (below right). Based on measurements made on birds captured at Hilton Pond Center for Piedmont Natural History during the breeding season, typical male Ruby-throated Hummingbirds, Archilochus colubris, have masses from about 2.50g to about 3.50g, while females average about half a gram heavier.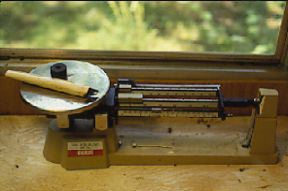 . .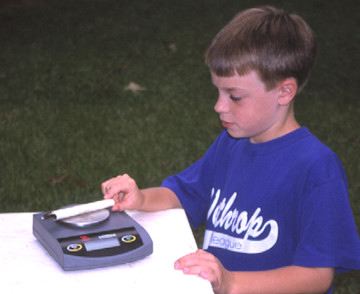 All text & photos © Bill Hilton Jr.
While immobilized safely in a paper tube, the hummingbird
is massed to the nearest 0.1g (above left) or 0.01g on an Ohaus balance
WING CHORD: The wing chord--a standard banding measurement--is the length of the flattened wing from the bird's wrist to the tip of the longest primary (flight) feather (below). Typical adult female Ruby-throated Hummingbirds at Hilton Pond Center for Piedmont Natural History show a wing chord between 40mm and 46mm, while adult males range from 37mm to 39mm. All Ruby-throated Hummingbirds molt while they are on the wintering grounds in the tropics, losing and replacing plumage--including their wing feathers. On average, young males have wing chords 2-3mm longer than after they molt during their first winter, while young females have wings about a millimeter longer before that first molt. In other words, their wings are somewhat shorter when they return after their first winter in the tropics.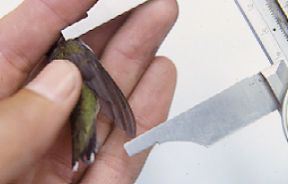 All text & photos © Bill Hilton Jr.
The wing chord of this young male hummingbird
measures 42.2mm on a dial caliper.

BILL (CULMEN): The exposed bill in a typical male Ruby-throated Hummingbird averages 15mm-18mm, while females measure 17mm-21mm. Bill length is much shorter in nestlings, but the beak usually has reached its full length by the time a young bird fledges. The bill measure is made with a metric ruler from the tip of the bill to where the feathers start along the top edge of the upper bill.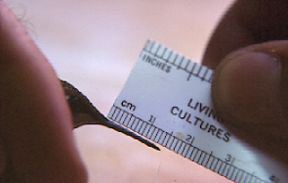 © Bill Hilton Jr.
A bill measurement of 15mm indicates this is a
male Ruby-throated Hummingbird; it will get its
typical red throat during its first winter.
OTHER MEASUREMENTS: Depending on the goals of their specific projects, hummingbird banders may take additional measurements, including: tail length; width of rectrices (tail feathers) and primaries (main wing feathers); etc. Notes also may be taken about plumage, molt, and other morphological characteristics, including feather shape.
---
Back to Ageing & Sexing Hummingbirds; forward to Color-marking Hummingbirds
Up to Top of Page


If you found this information useful or interesting, please
Support
Hilton Pond Center for Piedmont Natural History
&
Operation RubyThroat: The Hummingbird Project
It's painless, and YOU can make a difference!

Just CLICK on a logo below.

Make direct donations on-line through
Network for Good:

LIKE TO SHOP ON-LINE?
Donate a portion of your purchase price from 500+ top on-line stores via iGive:

Use your PayPal account
to make direct donations:
Operation
RubyThroat's
On-Site
Search Engine

Operation RubyThroat is a registered trademark of Bill Hilton Jr. and Hilton Pond Center for Piedmont Natural History in York, South Carolina USA, phone (803) 684-5852. Contents of the overall project and this website--including photos--may NOT be duplicated, modified, or used in any way except with the express written permission of the author. To obtain permission or for further assistance on accessing this website, contact Webmaster.