All text & photos © Operation RubyThroat & Hilton Pond Center
A true albino hummingbird--one that has white feathers and pink eyes, feet, and bill (above)--is extremely rare. Only a few true albino Ruby- throated Hummingbirds (Archilochus colubris) have been reported. The staff from Hilton Pond Center for Piedmont Natural History captured an albino ruby-throat in Chapel Hill, North Carolina in August 2003, as described on the Center's web site at Banding The Albino Hummingbird.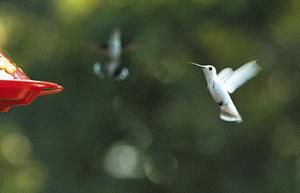 Leucistic hummingbirds are still rare but are seen more often than true albinos. Like "normal" hummingbirds, lecistic forms (see photos above right and below) have black eyes, feet, and bills, but their feathers may be pure white, buffy, tan, or gray instead of green or some other "normal" color. See This Time, It's Leucistic. There are several other pictures of white hummingbirds within the Gallery section of the Web site for Operation RubyThroat.
If you encounter a white hummingbird, please document it with a clear photo or video and e-mail it to Hilton Pond Center for Piedmont Natural History via RESEARCH. Be sure to include your name, city/state, date(s) of sighting(s), and any interesting anecdotal info you wish to share.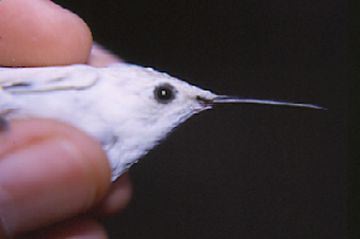 All text & photos © Operation RubyThroat & Hilton Pond Center
If there is a hummingbird bander near you, he/she may be able to trap and band the bird and release it unharmed. Only about a dozen albino or leucistic Ruby-throated Hummingbirds have been banded, and none of them are known to have returned in a following year after migrating to Mexico or Central America for the winter. Several factors may be involved:
White feathers are weaker than those with pigment, and may break during migration
White birds are not camouflaged and may be easy targets for predators
White birds may have other genetic anomalies that make them more susceptible to disease or other environmental problems
There may be some other as-yet-unexplained phenomenon
If you report a white hummingbird and someone is able to band it, you may help play an important role in our understanding of how albinism and leucism affect hummingbird populations.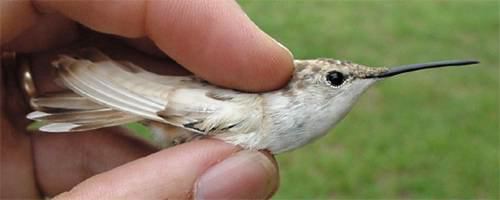 All text & photos © Operation RubyThroat & Hilton Pond Center