HUMMINGBIRD TALE #4
This tale was submitted by Rachel A. Powless, a member of the Wolf Clan of the Mohawk Tribe.
---
THE HUMMINGBIRD:
SYMBOL OF LACROSSE PLAYERS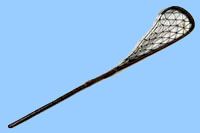 The Iroquois Confederacy and its tribes of the Mohawk, Onondaga, Seneca, Oneida, Cayuga, and Tuscarora for many centuries has honoured, revered, and respected the Ruby-throated Hummingbird. Lacrosse is also a time-honoured tradition within our nation and these two unlikely entities come together in celebration. Our Elders and storytellers tell us that it was the diminutive Ruby-throated Hummingbird that was selected to represent and symbolize our lacrosse players. Why would such a small creature carry such a burden, you ask? It has been said that our ancestors in forming the lacrosse stick shaped the stick in the likeness of a hummingbird's tail feather for it is the hummer that has speed, accuracy, and agility--all attributes our lacrosse players' desire.
The Great Spirit tells us that all lacrosse players after death realize their dreams by playing that Big Game where all of their friends, relatives, and even famous players suit up one more time each honouring the spirited-player.
---
Up to Top of Page
Back to Hummingbird Tale #3
Back to Hummingbird Tales Index
Back to Hummingbirds & Culture
Back to What's New?
If you found this information useful or interesting, please
Support
Hilton Pond Center for Piedmont Natural History
&
Operation RubyThroat: The Hummingbird Project
It's painless, and YOU can make a difference!

Just CLICK on a logo below.

Make direct donations on-line through
Network for Good:

LIKE TO SHOP ON-LINE?
Donate a portion of your purchase price from 500+ top on-line stores via iGive:

Use your PayPal account
to make direct donations:
Operation
RubyThroat's
On-Site
Search Engine


Operation RubyThroat is a registered trademark of Bill Hilton Jr. and Hilton Pond Center for Piedmont Natural History in York, South Carolina USA, phone (803) 684-5852. Contents of the overall project and this website--including photos--may NOT be duplicated, modified, or used in any way except with the express written permission of the author. To obtain permission or for further assistance on accessing this website, contact Webmaster.