38 U.S. states in which the Ruby-throated Hummingbird regularly breeds:
Alabama, Arkansas, Connecticut, Delaware, Florida, Georgia, Illinois, Indiana, Iowa, Kentucky, Louisiana, Maine, Maryland, Massachusetts, Michigan, Minnesota, Mississippi, Missouri, New Hampshire, New Jersey, New York, North Carolina, Ohio, Pennsylvania, Rhode Island, South Carolina, Tennessee, Vermont, Virginia, West Virginia, and Wisconsin; eastern portions of Kansas, Nebraska, North Dakota, Oklahoma, South Dakota, and Texas; and a small strip of northern Montana.
7 Canadian provinces in which the Ruby-throated Hummingbird regularly breeds:
New Brunswick and Nova Scotia; and southernmost Alberta, Manitoba, Ontario, Quebec, and Saskatchewan.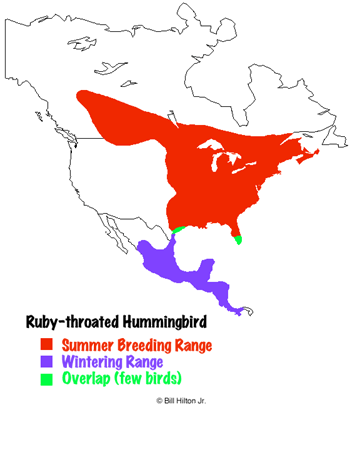 NOTE: There are scattered breeding and/or winter records for Ruby-throated Hummingbirds outside areas highlighted on the range map. All such sightings should be reported to appropriate local or state ornithology groups or by e-mail to Operation RubyThroat at: WEBMASTER.
9 countries in which the Ruby-throated Hummingbird regularly spends the winter (October-March):
Belize, Costa Rica, El Salvador, Guatemala, Honduras, central and southern Mexico, Nicaragua, Panama, and the United States (southern Florida and the Texas Gulf Coast, with a few isolated birds in other Atlantic and Gulf Coast states).
© Operation RubyThroat