-- EXOTIC HUMMINGBIRD PLANTS --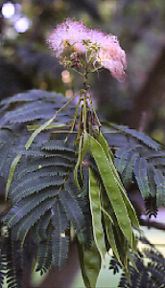 Ruby-throated Hummingbirds (Archilochus colubris) evolved from tropical hummingbirds that lived among lush forests and grasslands of the Earth's equatorial region. As they radiated into North America, these hummingbirds became adapted to feeding on new species of insects and plants endemic to the eastern U.S., southern Canada, Mexico and Central America.
Although many gardeners prefer to stick with native hummingbird flowers that historically were found within their regions, others mix local North American plants with those from Europe, Asia, Africa, and elsewhere in the Americas.
In this section of the Operation RubyThroat website, you will find information about exotic plants that attract Ruby-throated Hummingbirds, that are not native to North America, and that are likely to grow well in much of the bird's summer breeding range. Plant zones given under each species refer to the United States Department of Agriculture "Plant Hardiness Zone Map" for the U.S., Canada, and Mexico--a hyper-linked version of which is available at the U.S. National Arboretum website.

Go to "Top Ten" Exotic Hummingbird Plants
Back to Hummingbird Habitats; on to Native Hummingbird Plants or to Hummingbird Feeders
Up to Top of Page
If you found this information useful or interesting, please
Support
Hilton Pond Center for Piedmont Natural History
&
Operation RubyThroat: The Hummingbird Project
It's painless, and YOU can make a difference!

Just CLICK on a logo below.

Make direct donations on-line through
Network for Good:

LIKE TO SHOP ON-LINE?
Donate a portion of your purchase price from 500+ top on-line stores via iGive:

Use your PayPal account
to make direct donations:
Operation
RubyThroat's
On-Site
Search Engine


Operation RubyThroat is a registered trademark of Bill Hilton Jr. and Hilton Pond Center for Piedmont Natural History in York, South Carolina USA, phone (803) 684-5852. Contents of the overall project and this website--including photos--may NOT be duplicated, modified, or used in any way except with the express written permission of the author. To obtain permission or for further assistance on accessing this website, contact Webmaster.