As part of Operation RubyThroat, hummingbirds banded at locations other than Hilton Pond Center for Piedmont Natural History may or may not get color-marked. However, each August for "Hummingbird Mornings" at other locations in the eastern U.S., RTHU may be banded and marked on the upper breast and throat with other colors, including BLACK, BROWN, RED, or PURPLE. (Hummingbirds with bright orange or yellow throats are probably carrying pollen.)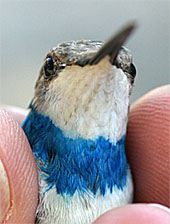 In addition, RTHU banded on our winter research site in Costa Rica are color-marked in January and February with BRIGHT BLUE (left). These birds may retain color long enough to be seen during spring migration by observers in the southern U.S.
Any sightings of color-marked birds anywhere in North or Central America should be reported immediately to the Bird Banding Lab at 1-800-327-BAND and to Operation RubyThroat via Bill Hilton Jr.
For examples of how color-marking Ruby-throated Hummingbirds (Archilochus colubris) has proved valuable, go to the next section.

Back to Measuring Hummingbirds; forward to Hummingbird Banding Results
Up to Top of Page