WHO BANDS BIRDS AND WHY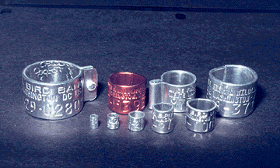 Photo © Bird Banding Laboratory
The federal Bird Banding Laboratory (BBL), formerly a unit of the U.S. Fish & Wildlife Service and now part of the U.S. Geological Survey, is headquartered in Laurel, Maryland. The BBL is the repository for data collected during bird banding activities in the U.S.; it collaborates closely with the Canadian Wildlife Service, which coordinates banding activities for Canada.
The BBL authorizes trained personnel to capture and band wild birds for research and educational purposes. Master Banders include, among others, employees at federal and state agencies, university researchers, bird observatory staff members, and private individuals. Most banders are also required to have state banding permits that are issued through their respective state governments. There are currently only about 2,300 Master banding permits in the U.S. and Canada, plus 2,900 subpermittees. Hummingbird banders are even less common, with only about 150 persons in the U.S. and Canada authorized to capture and band these tiny birds.
Bird banding is one of the most important tools in ornithological research. When a bird is banded, the bander collects important data about the bird's age, sex, condition, and plumage characteristics, and may make any number of measurements, especially the wing chord (length of the flattened wing from wrist to tip of the longest primary feather), tail length, mass, and bill length. After the bird is banded and released, the bander files data with the BBL, including precise information about date and location of capture. Then, if someone encounters the bird at a later date, the band number can be reported toll-free at 1-800-327-BAND or through the BBL's Web site. The BBL then contacts the bander and describes when and where the banded bird was encountered and by whom, and the finder gets a Certificate of Appreciation and information about where and when the bird was banded.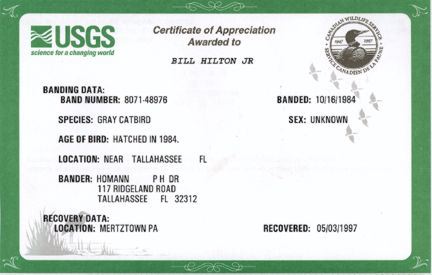 © Bill Hilton Jr.
Sample certificate for a Gray Catbird banded in Florida and
recovered 13 years later in Pennsylvania

Through this process of banding, recapture, and recovery, we learn much about bird natural history, especially migrational details and the relative abundance of a given bird species from year to year. If a banded bird shows site fidelity by remaining at or returning to the location where it was originally banded, the bander also can determine the bird's age in ensuing years.
Through our own research in the Neotropics, Operation RubyThroat's citizen science teams have shown Ruby-throated Hummingbird site fidelity in Costa Rica and Belize--just as we have long known about this phenomenon in North America. Since our data show site fidelity occurs on breeding AND wintering grounds we have ample evidence to approach government entities, conservation organizations, and landowners from Canada to Panama, asking them to protect habitat for ruby-throats on BOTH ends of the migratory path--and even along the way. Hummingbird banding may be fun, but it has real value; what we learn in the process can help us develop sound conservation policies to help hummingbirds survive.
Back to Hummingbird Banding Main Page; forward to Hummingbird Bands
Up to Top of Page
If you found this information useful or interesting, please
Support
Hilton Pond Center for Piedmont Natural History
&
Operation RubyThroat: The Hummingbird Project
It's painless, and YOU can make a difference!

Just CLICK on a logo below.

Make direct donations on-line through
Network for Good:

LIKE TO SHOP ON-LINE?
Donate a portion of your purchase price from 1,500+ top on-line stores via iGive:

Use your PayPal account
to make direct donations:
Operation
RubyThroat's
On-Site
Search Engine


Operation RubyThroat is a registered trademark of Bill Hilton Jr. and Hilton Pond Center for Piedmont Natural History in York, South Carolina USA, phone (803) 684-5852. Contents of the overall project and this website--including photos--may NOT be duplicated, modified, or used in any way except with the express written permission of the author. To obtain permission or for further assistance on accessing this website, contact Webmaster.