-- HUMMINGBIRD GALLERY Room #10 --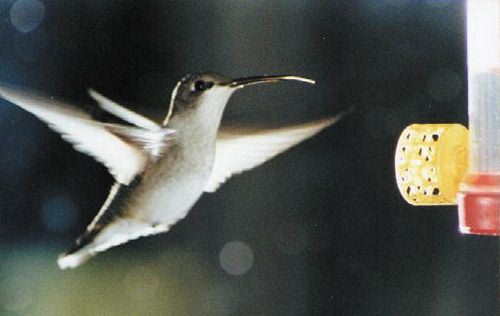 This photo of an apparent female Ruby-throated Hummingbird reveals her tongue as she approaches a feeder. Photo taken on 16 September 2000 by Kenneth Myron Bonnell at Greenville, Mississippi.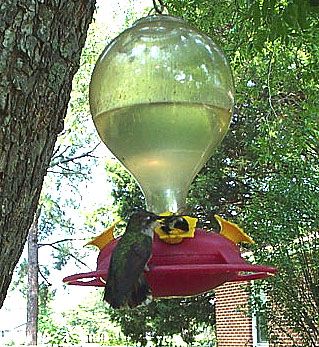 In southern Georgia, Janis Abney was relaxing in her backyard on 26 August 2002 when she saw a Ruby-throated Hummingbird (either a female or young male) acting oddly in the vicinity of her hummer feeder. She looked more closely and found that the bird had a large bumblebee impaled on its bill. The bird apparently had been in this predicament for some time because it was weak enough that Janis's husband Monty was able to slowly walk up to the bird and capture it by hand. He removed the bee (with a surprising amount of difficulty), but the bird appeared to have expired during the process. Monty examined it more carefully and detected some faint signs of life; not knowing what else to do, he did just the right thing by sticking the bird's bill into the hummingbird feeder. The bird's tongue started to move slowly, and soon the hummingbird was drinking avidly. After several minutes, it was "recharged," and the Abneys let the hummer go, apparently none the worse for wear. Photo courtesy Mark Abney and Clyde Soresnson. (See "What to do with an Injured Hummingbird.")
Back to Gallery Room #9; on to Gallery Room #11
The Hummingbird Gallery is a collection of hummingbird-related photographs and other art. Please let us know via PROJECTS if you have a photo, drawing, or image you'd like to share with others on the Operation RubyThroat website.
Back to Main Gallery Page
Back to Hummingbird Miscellany
If you found this information useful or interesting, please
Support
Hilton Pond Center for Piedmont Natural History
&
Operation RubyThroat: The Hummingbird Project
It's painless, and YOU can make a difference!

Just CLICK on a logo below.

Make direct donations on-line through
Network for Good:

LIKE TO SHOP ON-LINE?
Donate a portion of your purchase price from 500+ top on-line stores via iGive:

Use your PayPal account
to make direct donations:
Operation
RubyThroat's
On-Site
Search Engine


Operation RubyThroat is a registered trademark of Bill Hilton Jr. and Hilton Pond Center for Piedmont Natural History in York, South Carolina USA, phone (803) 684-5852. Contents of the overall project and this website--including photos--may NOT be duplicated, modified, or used in any way except with the express written permission of the author. To obtain permission or for further assistance on accessing this website, contact Webmaster.