-- HUMMINGBIRD GALLERY Room #7 --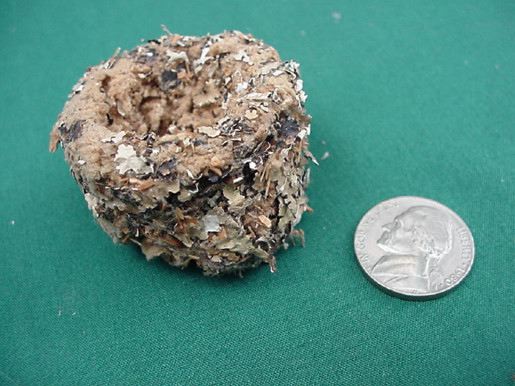 This nest of a Ruby-throated Hummingbird from Lenoir, North Carolina, is particularly unusual--not because of its small size but because it was built at least 130 years ago! Dr. John Hardaway, a retired physician from Statesville, North Carolina, has had the nest since he was a child, and the woman who gave it to him had it in her possession for more than half a century before that. Dr. Hardaway brought the nest to one ofBill Hilton Jr.'s "Hummingbird Mornings" presentations in August 2000 at Allison Woods near Statesville.
The Hummingbird Gallery is a collection of hummingbird-related photographs and other art. Please let us know via PROJECTS if you have a photo, drawing, or image you'd like to share with others on the Operation RubyThroat website.
Back to Main Gallery Page
Back to Hummingbird Miscellany
If you found this information useful or interesting, please
Support
Hilton Pond Center for Piedmont Natural History
&
Operation RubyThroat: The Hummingbird Project
It's painless, and YOU can make a difference!

Just CLICK on a logo below.

Make direct donations on-line through
Network for Good:

LIKE TO SHOP ON-LINE?
Donate a portion of your purchase price from 500+ top on-line stores via iGive:

Use your PayPal account
to make direct donations:
Operation
RubyThroat's
On-Site
Search Engine


Operation RubyThroat is a registered trademark of Bill Hilton Jr. and Hilton Pond Center for Piedmont Natural History in York, South Carolina USA, phone (803) 684-5852. Contents of the overall project and this website--including photos--may NOT be duplicated, modified, or used in any way except with the express written permission of the author. To obtain permission or for further assistance on accessing this website, contact Webmaster.