These photos of an apparent female Ruby-throated Hummingbird (Archilochus colubris) were taken by Dennis Peddy of Cockeysville, Maryland, in August and September 1999. The bird is "leucistic"--mostly white, but not a true albino because of dark eyes and limited pigment in the feathers, feet, and beak.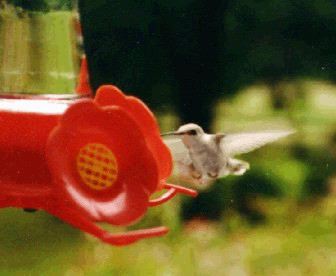 Photo © Dennis Peddy
Dennis comments: "She was slightly bigger than the average female, and was not intimidated by the usual territorial aggression of other hummers. She had her own feeder for about two weeks, and then, for no apparent reason, gave it up. She continued to feed at three or four other feeders for the rest of the summer, and refused to flee from the diving threats of the other birds. I found that to be a little off the normal behavior. I observed her many times within several inches, and, in fact, she actually came into my house once for a minute or so, as she evaded one of the other hummers, at the same time that I had opened the window to get a picture. From a distance, she appeared white, but up close she actually had the most beautiful golden tints to her feathers."