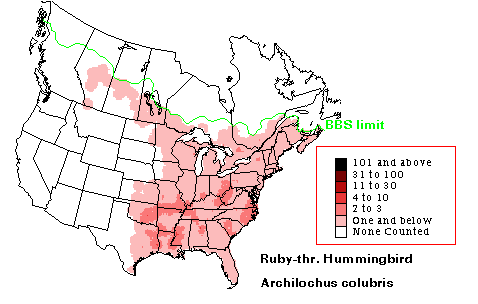 Breeding Bird Survey (BBS) Map, showing distribution and nesting density of Ruby-throated Hummingbirds
---
The Ruby-throated Hummingbird, Archilochus colubris, breeds throughout the eastern half of the United States and in southern Canada from Nova Scotia to almost as far west as British Columbia. Most published range maps (above) show that ruby-throats occur only about a hundred miles or so north of much of the U.S.-Canada border, but anecdotal information from many unpublished sources indicates the distribution and breeding range actually goes much further. For example, a missionary at the Sandy Lake tribal reservation on the Ontario/Manitoba border reports ruby-throats at a feeder every summer for the past several years, and this site is well north of the green line on the map above.
In an attempt to clarify the actual distribution and breeding range, through Operation RubyThroat: The Hummingbird Project we are collecting sightings of Ruby-throated Hummingbirds and their nests in the Canadian provinces.
If you live, vacation, or go to school in Canada, please fill out the form below and submit it to Operation RubyThroat. As information becomes available, we will post sightings to a new Canadian Distribution Map on the Operation RubyThroat Web site. If possible, please use a GPS device or topographic map to determine the latitude and longitude of your sighting(s). Feel free to e-mail us your digital photos of Ruby-throated Hummingbirds or their nests; be sure to include your name, specific loaction, date of photo, and any anecdotal information you wish to share.
NOTE: Please report ONLY Ruby-throated Hummingbirds, Archilochus colubris. Keep in mind that several North American hummingbirds have red throats and are sometimes incorrectly called "ruby-throats." For example, the male Broad-tailed Hummingbird, Selasphorus platycercus, a species that breeds in the Rocky Mountains of the U.S., superficially resembles the male Ruby-throated Hummingbird. To confirm your species identifications, please refer to a field guide; the photos under Other Hummingbird Species also may be of help. It is worth remembering that females of several North American hummingbird species are so similar they are not distinguishable at the feeder or in the field.
If you are a teacher or student, you may also be interested in becoming involved with other aspects of Operation RubyThroat: The Hummingbird Project. Please explore the rest of this Web site for more information. (If you are a Canadian teacher involved in The GLOBE Program, you may be aware that there is a Operation RubyThroat/GLOBE Hummingbird Protocol you can use with your students. See the Phenology section on the GLOBE Web site for details.)
*NOTE: All fields below except Latitude/Longitude are required. We will not share or publish your name or e-mail address.