During the 2000-2001 academic year, several schools, nature centers, and individuals tested Operation RubyThroat in anticipation of the project being expanded to include many more teachers and students in the Carolinas and New York in 2001-2002. The following report was submitted by Sami Sessler, a third grade science student at Nursery Road Elementary School in Columbia, South Carolina. (See also a Preliminary Report by Sami's teacher, Ms. Deidre Cousins.)
---
"Operation RubyThroat Project Report, Spring 2001"
by Sami Sessler
3rd Grade--Mrs. Deidre Cousins
Nursery Road Elementary School
Columbia, South Carolina
At the beginning of third grade in August my teacher, Mrs. Cousins, gave me a hummingbird feeder so I could participate in Operation RubyThroat. I hung my feeder outside my kitchen window and filled it with sugar water that Mrs. Cousins gave me a recipe for. Very soon hummingbirds started visiting my feeder. I have ALWAYS loved to watch hummingbirds, so this project was right up my alley.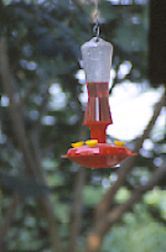 As these beautiful miniature creatures would hover outside my kitchen window, I would sit as still as could be so that I could study their movement and feeding techniques and write down what I saw in my Operation RubyThroat journal. I had three hummingbirds that came to my feeder all day long. It was fun and fascinating to watch because they would take turns feeding. I named the birds Dashley, Trumpet, and Dancer.
Dashley is a female. She likes privacy. Dancer is a male. He fights bees a lot! Trumpet is a female. She hates bugs, too. Whenever I observe these hummingbirds, I feel like I can understand them. I could almost predict when this dancing trio would come to the feeder. One time Trumpet stayed and fed for almost a minute. She even sat on the perch. I like to watch her sit still because then I can study her feathers and face.
One day Dancer flew into our screen porch. My mom noticed and told me to run around to the back of the house and close the door to the porch. She got the camcorder out and filmed Dancer for about an hour! She helped me take pictures with the digital camera, too. I brought the pictures to school to share with other students. That was the closest I have even been to a hummingbird. It was very exciting to have this amazing little bird zip to and fro and past my head. When Dancer would fly around my face, I could feel the quick movement of his wings near my cheek. His buzzing sound was a little scary because it sounded like a bee. He didn't seem to be flying in an orderly way. A first I thought he might crash into me, but now that I have studied hummingbirds I know he was just trying to get free and couldn't hurt me.
Hummingbird Facts: A hummingbird's nest is as big as a Coke bottle cap. An egg is as big as a small jellybean. A female feeds her babies by getting food and putting it down their throats. An old male's neck is red. Hummingbirds travel south before the first frost.
Now when I see a hummingbird, it makes me happy to be alive!