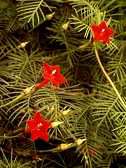 Thanks to Allison Tripp-Russo
for forwarding this photo
Cypress Vine,
Ipomoea quamoclit,
with its tiny red flowers and delicate fern-like leaves, grows well on an arbor. It is a hummingbird favorite. This annual plant produces hundreds of flowers--and thousands of seeds--usually insuring its presence from year to year.
If you have a sharp photo of this hummingbird flower you would like to contribute for this page, please send it to PROJECTS with info about when and where the photo was taken, the photographer's name, and any anecdotal info about the plant.