Chart 8:
DATES FOR NEW BANDINGS of
ADULT & JUVENILE
RUBY-THROATED HUMMINGBIRDS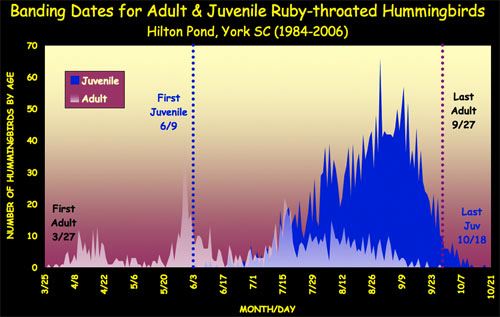 All text, data, and graphics © Operation RubyThroat
(Click here for a larger version of the chart above)


CHART 8: At Hilton Pond Center for Piedmont Natural History near York, South Carolina USA, new bandings of Ruby-throated Hummingbird adults begin as early as 27 Mar and continue as late as 17 Sep. The earliest juvenile was banded on 9 Jun and the latest on 18 Oct.
The early peak of adult RTHUs at the Center in mid-March reflects the arrival of future resident breeders AND migrants that pass on through; another large but mysterious peak in early June may indicate a second wave of adult migrants. The peak of adults in mid-July likely represents an influx of wandering females that have completed nesting responsibilities and males that no longer are defending territories.
All text, data, and graphics © Operation RubyThroat
Back to Hummingbird Banding Results
Return to Chart 7.
Up to Top of Page


If you found this information useful or interesting, please
Support
Hilton Pond Center for Piedmont Natural History
&
Operation RubyThroat: The Hummingbird Project
It's painless, and YOU can make a difference!

Just CLICK on a logo below.

Make direct donations on-line through
Network for Good:

LIKE TO SHOP ON-LINE?
Donate a portion of your purchase price from 500+ top on-line stores via iGive:

Use your PayPal account
to make direct donations:
Operation
RubyThroat's
On-Site
Search Engine


Operation RubyThroat is a registered trademark of Bill Hilton Jr. and Hilton Pond Center for Piedmont Natural History in York, South Carolina USA, phone (803) 684-5852. Contents of the overall project and this website--including photos--may NOT be duplicated, modified, or used in any way except with the express written permission of the author. To obtain permission or for further assistance on accessing this website, contact Webmaster.