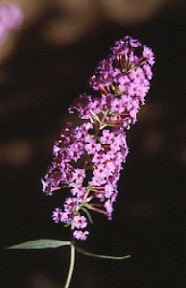 © Bill Hilton Jr.
Butterfly Bush, Buddleja davidii (sometimes incorrectly spelled as Buddleia), is a woody shrub that gets a bit rangy unless pruned back occasionally. An import from China, it comes in several flower colors--including white, pink, and purple--and is a staple in both hummingbird and butterfly gardens. The tiny flowers are borne on long, arching branches, with some flower spikes up to 50cm long. It is fairly drought tolerant and often retains some foliage in winter.
Richard Stell of Greensboro, North Carolina, found and photographed in 2003 a yellow variety of Butterfly Bush that is called "Honeycomb."
If you have a sharp photo of Butterfly Bush you would like to contribute for this page, please send it to PROJECTS with info about when and where the photo was taken, the photographer's name, and any anecdotal info about the plant.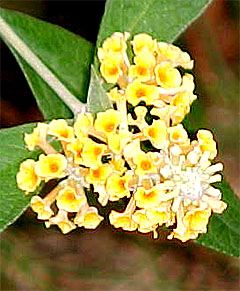 © Richard Stell