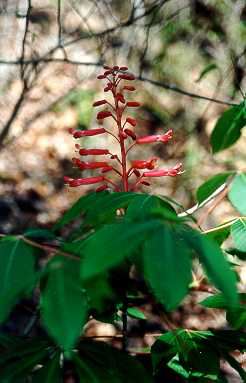 Photo © Bill Hilton Jr.
An established Red Buckeye, Aesculus pavia, can grow into a spectacular understory tree just right for the back edge of the hummingbird garden. Ruby-throated Hummingbirds appear to be one of its principal pollinators. Its non-symmetrical shape makes it a good accent plant.

If you have a sharp photo of this hummingbird flower you would like to contribute for this page, please send it to PROJECTS with info about when and where the photo was taken, the photographer's name, and any anecdotal info about the plant.